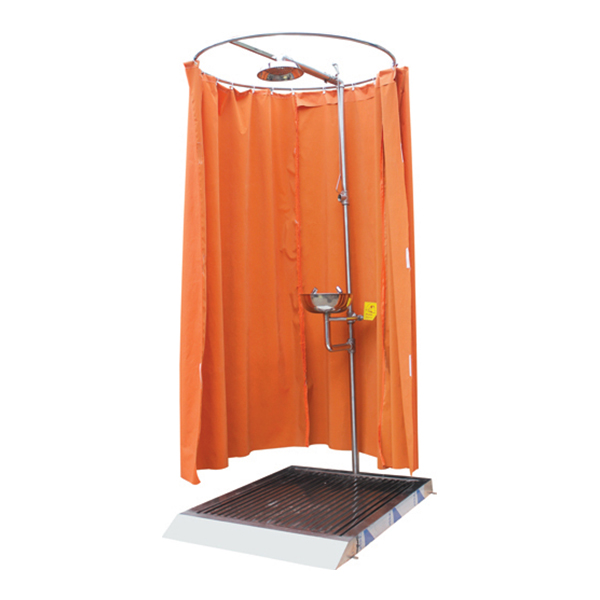 Product title:HA02108 Bath Curtain Stainless Steel Composite Eye Washer
Product Description:

Name: Bath Curtain Stainless Steel Composite Eye Washer

Model: HA02108
400-0022-160
Product Description
Name: Bath Curtain Stainless Steel Composite Eye Washer
Model: HA02108
Technical parameters:
Bath curtain stainless steel compound eyewash is designed for the environment where the shower can't splash on the ground when it sprays. The experienced waterproof shower curtain can effectively prevent the splash when the shower sprays. Combined with the matching use of the catchment tank, the splash wastewater can be collected effectively, and the drainage function can be realized by connecting the drainage pipe.
1. Eye wash nozzle - stainless steel material, equipped with stainless steel filter, can form soft bubble water flow, more effective for rapid rinsing of harmful substances in the eyes, while reducing the re-injury to the eyes.
2. Valve-punch Valve 1"-304 Stainless Steel Galvanized Ball Valve
Punch valve 1/2"304 stainless steel galvanized ball valve
3. Pipe material - general body is corrosion resistant 304 stainless steel material
4. Inlet and outlet - 1/4"inch internal rib
5. Water Pressure - 0.2MPA~0.8MPA
6. Water Source-Clean Domestic Water
7. Use environment - where dangerous substances are splashed, where polluted environment is contaminated, where combustion may occur
Optional pedal device